The Crew of the
SF 'Nincompoop!'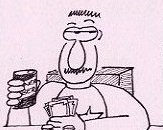 CAPTAIN HORATIO G. TEKY -
serial number ICUROK
The unflappable leader and calm center of the chaos that is "Idiots"
fav movie - "Master & Commander"
---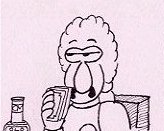 FIRST OFFICER "HAWK" TAYLOR - serial number LPNO#9
Believes he is the universe's gift to women, and acts accordingly
fav movie - "Midnight Cowboy"
---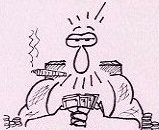 LT. MOKHAN "MAD DOG" -
serial number 23SKIDOO
A crackerjack pilot, stronger than ten men, a media darling, and totally clueless.
fav movie - "2 Fast 2 Furious"
---

LT. SUZIE O'ROURKE -
serial number 363436
The best navigator in the biz, and she knows it.
fav movie - "Thelma & Louise"
---

DOCTOR ANGELO SCHOOMY -
serial number 911
The very cream of humanity, filled with kindness, generosity and a healthy dose of paranoia.
fav movie - "Carry On Doctor"
---

ENSIGN KOS KUBINSKI -
serial number 4 to the second power
The good guy of the crew who still believes in love, friendship, and the Red Sox.
fav movie - "Mister Roberts"
---

TRAINEE HOWIE BAXTER-SMYTHE - serial number .02
The ship's 'little brother' - what they wouldn't give to be an only child.
fav movie - "Dumb and Dumber"
---
COOK 'ARRIS -
serial number H2OBOY
Gourmet chef and caustic wit - all in a day's work
fav movie - NOT "Howard the Duck"
---

SISTER MARY CHAINSAW - NUN
Umm...a nun.
fav movie - "Passion of the Christ"
---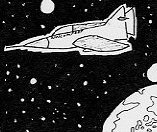 THE GOOD SHIP - SF 'NINCOMPOOP'
Lovingly known as 'The 'Poop" by her esteemed crew.
---
Back to Entropy's Edge.